High quality Disk Granulating Machine manufacturer
The disk angle of the granulating machine is arc granulating ratio is over 93%. The disk pan design is convient to batch-type continuous pruduction. Which reduces labor intension and improve labor efficiency. The reducer and motor our disc granulator are both driven by flexible belt, Which ensures stable start, reduced impact force and longer service life. Granulating disc bottom using many radiation steel strengthening, strong and durable, never deformation. Thickened, strengthened, strong base design, without foundation bolt to fix, run stable. The granulator main gear use high frequency quenching, make the serve life two times longer. Granulation pan lined with high strength glass fiber reinforced plastic, antiseptic and duable. This machine has advantages of granulating uniform, high granulate rate, run stable, strong and duable, service life long and so on, is the most ideal equipment.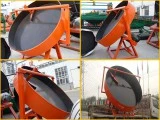 Disc granulator
1. Product overview
This series of granulating disc, granulating disc plate angle using arc structure. Granule rate can reach more than 93%. Reducer and the motor droved by the flexible belt, which made them stable starting, slow down the impact and improve the service life of equipment. Steel strengthening granulating disc bottom adopts multiple radiation, strong and durable, never deformation, thickening, compound, solid base design, do not need the anchor bolt, smooth operation. Granulator main gear adopts high frequency sudden fire to double service life. Granulation plate lining of high strength glass fiber reinforced plastic, anticorrosion and durable. The machine has advantages of uniform granules, high granule rate, smooth operation, equipment is strong and durable and long service life.
2. The working principle
Its working principle: This series of products by the main motor drive pulley and belt, through the reducer drive pinion, pinion interlocking with big gear which fixed in the bottom, work opposite. Big gear with special reasonable design, installed on the main shaft fixed on the frame to adjust plate, to support the work of the granulating disc (this machine is used to spray machine). The material enter the granulating disc, after continuing rotation of the granulating disc and spray device, material sticking evenly to be particles together. In this machine granulation upper plate has design of the automatic cleaning device, preventing the of wall material viscosity, thus greatly improving the service life of the machine. With the constant rotation of motor, materials into unceasingly, can realize the mass production, has reached to the needs of the user.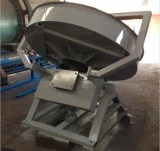 3. Characteristics
The granulating disc has new novel and reasonable structure, weight losing and height reduced. Flexible process arrangement, suitable for old plant modification.
The market Angle is adjustable. Using Angle gaskets, flexible and convenient adjustment.
The unique combination of unpowered scraper integration make auxiliary power consumption is reduced.
The market consists of a plate body and plate section. Reduce the main motor power. Disc section along the plate body can be adjusted up and down. Side of the flange, plate section ends for a ball when acquired can ensure that the material is not strain and torn apart.
New desilting design, combined by unpowered scraper side end of qing dynasty, the qing horn scraper liquidation, cooperate with the disc body unique processing technology, desilting, into a ball effect is good, there will not be a big mud pie, feeding the ball 90% in 3 to 5 mm in diameter.
4. Usage
Organic fertilizer granulation use organic sludge, chicken manure, straw after fermentation as raw materials.
Mixed feed granulation With corn flour, grass meal, soybean meal as raw material
Deodorization sterile efficient fertilizer with livestock and poultry manure, city life garbage by microbial fermentation technology
Granulating disc granulator can be applied to crude fibre granulation, rice husk, cotton seed, construction waste, etc.
Granulating disc is widely used in transporting powdery, beaded or small state of all kinds of viscous material, such as coal, cement, clinker, fertilizer and other materials.
Main Technical Parameter:
| | | | | | |
| --- | --- | --- | --- | --- | --- |
| Model | Inner dia.(mm) | Side height(mm) | Rotation speed(r/min) | Motor power(kw) | capacity |
| FZLP10 | 1000 | 250 | 24 | 2.2 | 0.3-0.5(t/h) |
| FZLP15 | 1500 | 300 | 22 | 2.2 | 0.5-0.8(t/h) |
| FZLP16 | 1600 | 300 | 20 | 3 | 0.4-1(t/h) |
| FZLP18 | 1800 | 300 | 18 | 3 | 0.6-1.2(t/h) |
| FZLP20 | 2000 | 350 | 16 | 4 | 0.6-2.0(t/h) |
| FZLP22 | 2200 | 360 | 15 | 5.5 | 0.8-2.2(t/h) |
| FZLP25 | 2500 | 380 | 13.5 | 5.5 | 1-2.5(t/h) |
| FZLP28 | 2800 | 400 | 13 | 7.5 | 1-3(t/h) |
| FZLP30 | 3000 | 420 | 12.5 | 11 | 1-4(t/h) |
| FZLP32 | 3200 | 450 | 12.5 | 15 | 1-5(t/h) |
| FZLP35 | 3500 | 460 | 12 | 18.5 | 1.5-5.5(t/h) |
| FZLP36 | 3600 | 460 | 12 | 18.5 | 2-6(t/h) |
If you have anyother questions, please contact me at anytime!