Professional Shredder Machine Knives Double Shaft Shredder Blades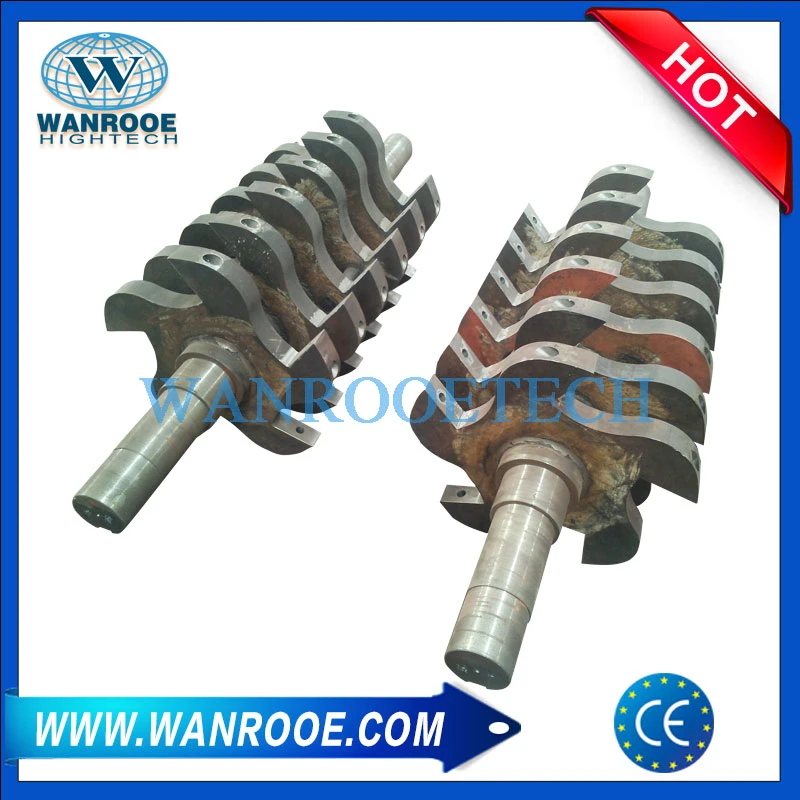 Applications:
Double shaft shredder knives blade is used shred for Packing materials, Metal sprues and housings, Aluminum profiles, Metal drums, Electronic Scrap, Electrical devices, Household devices, Tires, Paper waste, Plastic Scrap, Refrigerators, and many more
Description:
The double shaft shredder blade is one of the important parts of the shredder. The quality and correct installation of the blade largely determine the use effect and life of the shredder. Generally, the spiral mounting method is adopted, and the spacer sleeve is separated in the middle. The thickness of the blade should be 0.2 to 0.3 thick to prevent the blade from colliding during operation and choose a reasonable thickness and number of teeth according to the size of the product.
With the development and innovation of the blade industry, the quality of the raw materials of the blade is increasing. The shredder blades are commonly used in a variety of materials, and the materials are generally selected according to different processing objects:
Common materials used in the plastic industry are 42CrMo, W5SiCr, SKD-11;
Common materials used in the metal industry are: 6CrW2Si, Cr12Mov, LD, H13;
Common materials used in the wood industry are: 5WSiCr, 6CrW2Si, SKH, SKD-11, D2;
The heat treatment reached HRC 55-57.
According to the material of the shredder shredded product, choose the appropriate blade. For rubber, the shredding of the film generally adopts the blade of Cr12mov. For the shredding of wood and plastic, the blade of 55sicr is generally used, shredded scrap, popped flower, and flower iron. A blade using H13 is suitable because H13 is a hot work die steel which is a steel formed by adding alloying elements to carbon steel. It has good comprehensive performance at medium temperature, high hardenability and low heat treatment deformation rate, high-temperature resistance, and low deformation. Therefore, it is more suitable for shredding metal products.
Commonly used twin-shaft shredder blades. The inner hole is generally an inner hexagon, and the outer circumference commonly has three claws, six claws, eight claws, and twelve claws. The number of jaws, the clearance, and the distance from the blade to the spacer determine the size of the shredded material. Generally, the shredder blades are available in diameters from 200mm to 500mm and thicknesses from 20mm to 55mm. They can also be customized according to customer needs.
Shredder Blades with different thickness:
The 10 and 20mm thick blades are suitable for fragile materials such as medical packaging and electrical board.
The 40 and 50mm thick blades are widely used. It is suitable for various materials such as tires, plastic products, wood pallets, films and etc.
75mm thickness blades are used for shredding metal items or plastic/metal compounds such as refrigerators and drums. The blades can handle material up to 10mm in thickness.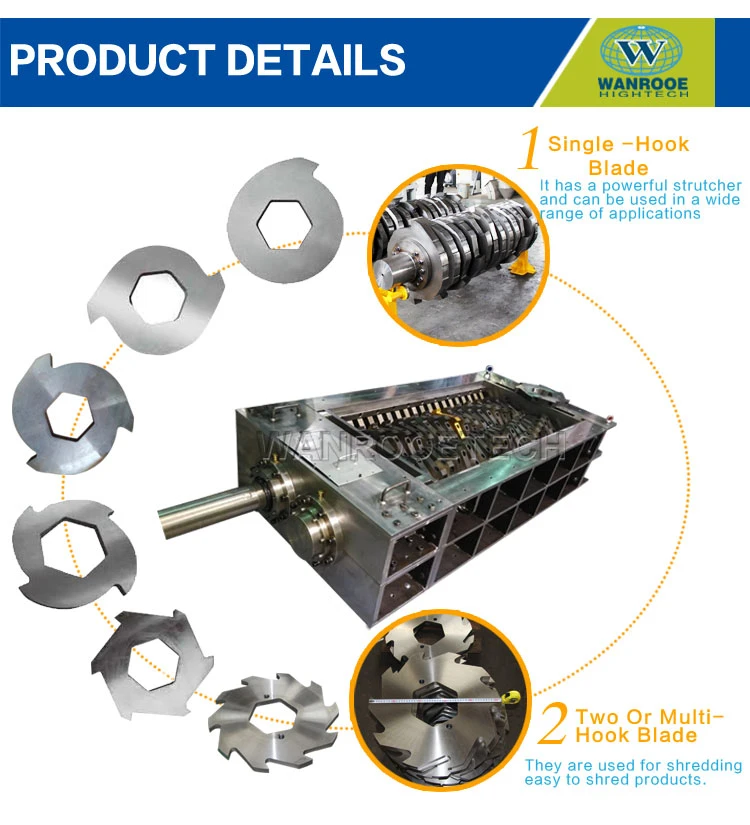 Technical Parameters
| | | |
| --- | --- | --- |
| Model | Shredding Motor Power(kw) | Shredding Chamber size(mm) |
| PNSS-300 | 7.5 | 510×300 |
| PNSS-400 | 7.5 | 510×400 |
| PNSS-600 | 7.5+7.5 | 510×600 |
| PNSS-800 | 18.5+18.5 | 600×800 |
| PNSS-1000 | 22+22 | 800×1000 |
| PNSS-1200 | 30+30 | 1000×1200 |
| PNSS-1400 | 55+55 | 1400×1200 |
| PNSS-1600 | 55+55 | 1600×1200 |
| PNSS-1800 | 75+75 | 1800×1400 |
| PNSS-2000 | 90+90 | 2000×1400 |