Super mixing granulator ( Super mixing granulator )
The machine is controlled by program (can be equipped with PLC and Human Machine interface), Unify technology by hand, so as to study the technology parameters.
Stirring paddle and cutter adopt frequency speed regulation. The granule diameter can be controlled easily. Rotating shaft clearance is full of Compressed air, which prevents the rotating shaft trom the dust of material, and the machine has auto-cleaning function.
Conical material groove make the material mix uniformly, cooling temperature of interlayer jacket can be controlled automatically, that improving quality of granule.
Pot lid lift automatically, discharge mouth can be equipped with dryin equipment.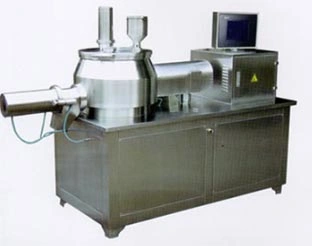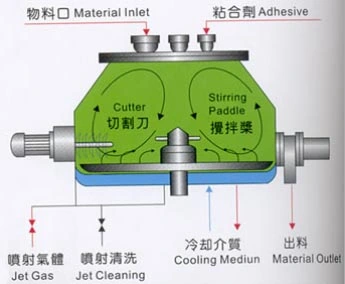 The process consists of two programs including mixing and granulating. Powder material can be changed into the material pan from the conical hopper and continue to rotate in the container under the action of mixing blade once the hoper is closed. In the meanwhile, all materials grow up the shape of liquid bridge under continuous effects of conical wall. Under the action of extrusion, friction as well as crumb by blade and conical tank wall, all material is gradually turn for loosen. At last while opening the hopper outlet, waterish particles are pushed off under the centrifugal effects blade.
Model

HLSG-200

HLSG-100

HLSG-50

Hopper Capacity

200L

100L

50L

Mount of Material
proportion 0.5 g/cu.cm

80-120L

25-70L

12-35L

operation time

Mixing: about 2 mins
Granulating: about 1-4 min/batch

Granularity

0.14-1.5mm(12 - 100mesh)

Mixing Motor

15KW 6Pole

7.5KW 6Pole

5.5KW 4Pole

Rotate Speed of Stirring Paddle
Frequency Adjusting speed

30-250R/min

30-250R/min

25-500R/min

Granulating Motor

4KW 2Pole

3KW 2Pole

1.5KW 2Pole

Rotate Speed of Granulating Paddle
Frequency Adjusting speed

50-3000R/min

Air Compress

0.3stere/min 0.7Mpa (equipped by user.)

Joint of the Cooling Water

8mm

Joint of the Air Compress

12mm

Height of Charger Outlet

920

796

796

Overall Dimensions (L*B*H)

2350*910*2100mm

2115*702*1780mm

1935*662*1575mm

Weight

1100kg

700kg

400kg