waste paper shredder carton shredder bandbox shredder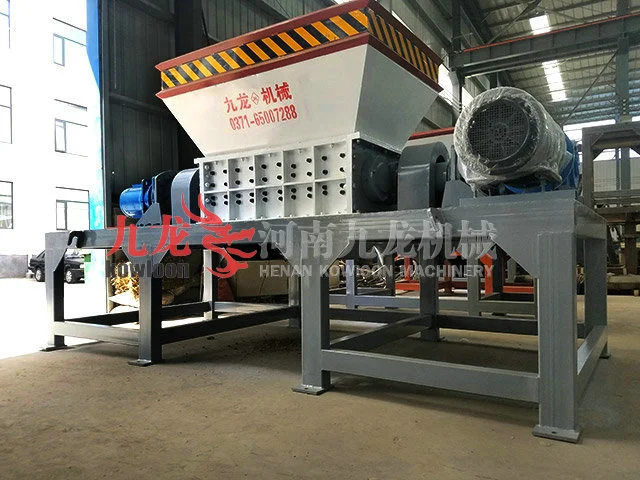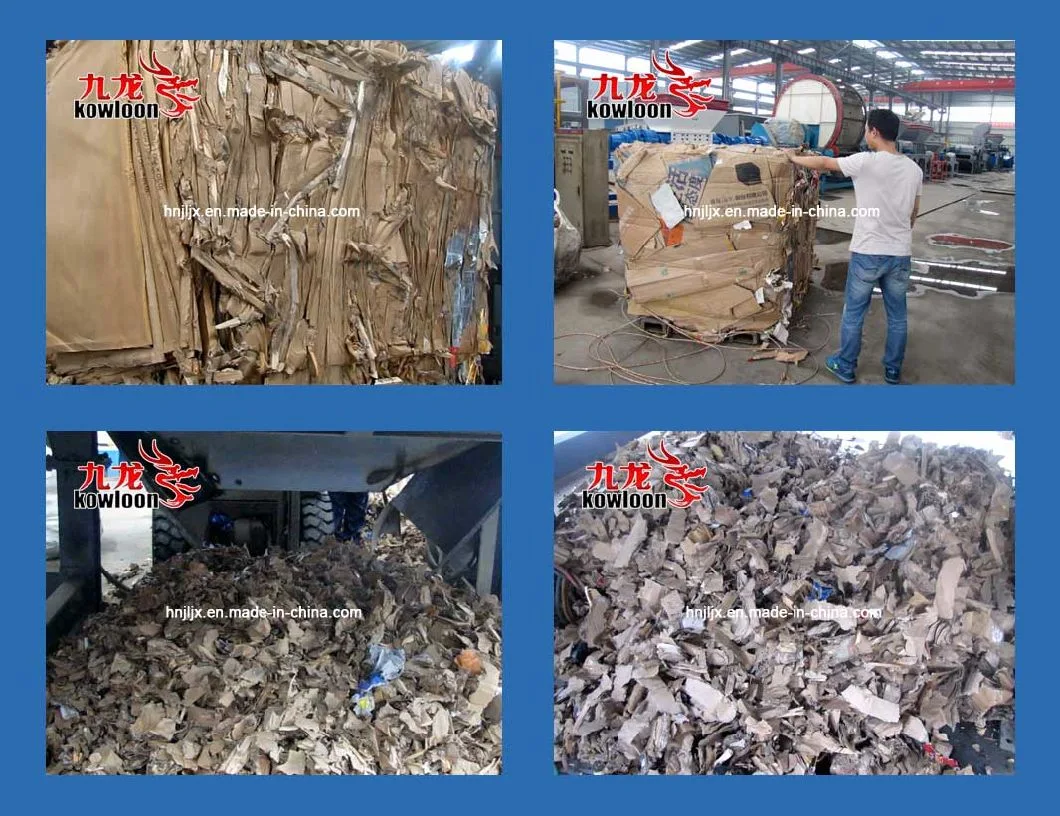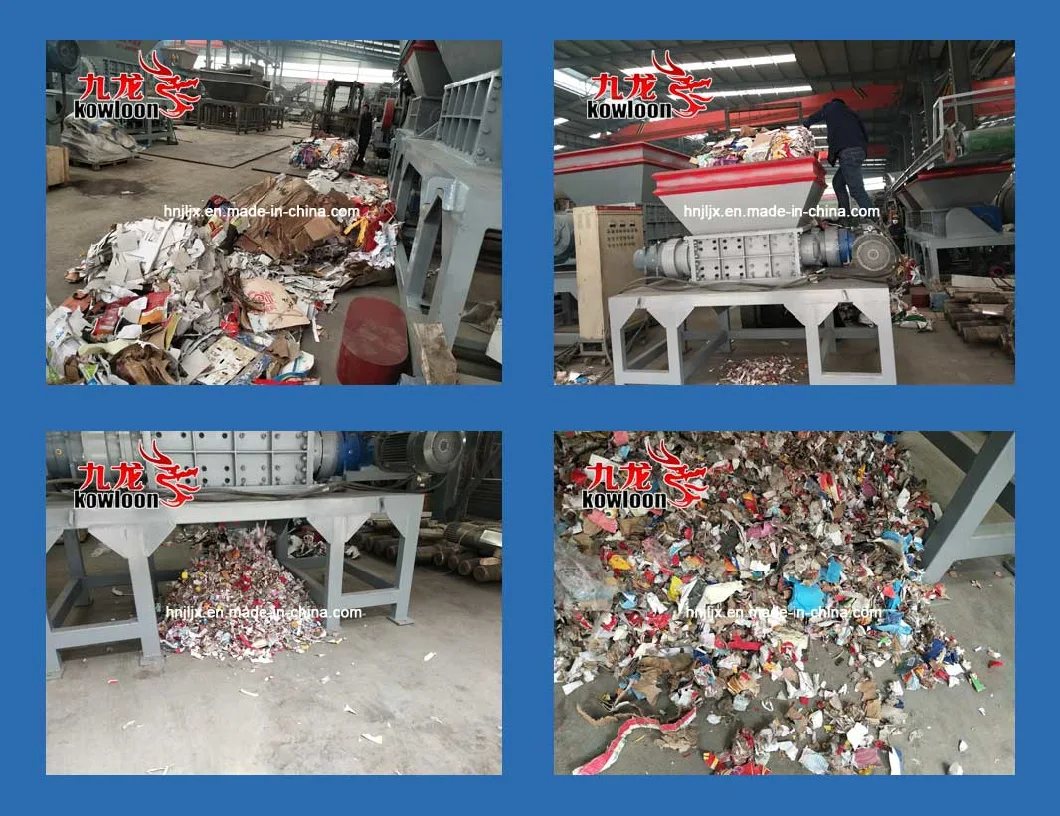 Technical parameters
| | | | | | | |
| --- | --- | --- | --- | --- | --- | --- |
| Model | JLSS600 | JLSS1000 | JLSS1200 | JLSS1500 | JLSS1900 | JLSS2600 |
| Main shaft power | 4-15kw*2 | 4-30kw*2 | 4-37 kw*2 | 4-45kw*2 | 4-90 kw*2 | 4-160kw*2 |
| Main shaft rotary speed | 18-20rpm | 18-20rpm | 18-20 rpm | 14-16 rpm | 14-16 rpm | 16-18 rpm |
| Working capacity | 2-5t/h | 5-10 t/h | 6-15 t/h | 8-18 t/h | 10-25 t/h | 25-60 t/h |
| Weight | 3000kg | 5000 kg | 6000 kg | 12000 kg | 15000 kg | 36000 kg |
| Conveyor motor power | None | None | None | 4-3kw | 4-3kw | 4-3kw |
| Number or cutter head | 20pcs*φ400 | 34 pcs*φ400 | 42 pcs*φ400 | 46 pcs*φ550 | 50 pcs*φ600 | 40 pcs*φ720 |
| Finished ships size | 3-10cm | 3-10cm | 3-10cm | 3-10cm | 3-10cm | 3-10cm |
| Feeding tank size | 0.82×0.9m | 1.2×1m | 1.4×1m | 2×2m | 2.3×2m | 2.5×1.4m |
| Dimension | 2.6×2×1.9m | 3×2×1.9m | 3.2×2×1.9m | 4×1.7×2.4m | 8×2.5×2.4m | 8.2×4×4.3m |
Durable industrial double shaft shredder plastic shredder also kown as shredder, shredder machine, plastic shredder, plastic shredder machine, tyre shredder, metal shredder, plastic recycling machine, coconut shredder, garbage shredder, industrial heavy shredder.
Product Description
Discription:
Twin-shaft shredder also named shearing machine, by cutting, tearing and extruting to reduce the materials' size, widely used in area of waste plastic, waste rubber, wood, crop straw, automobile recycling…etc, this is a quality and reliable equipment in recycling business.
Features:
-Use thick and heavy duty knives, high shredding efficiency.
-Moving blade and dead blade both made of alloy steel, can resistance to high torque, high strength and very durable.
-Entire frame made up by thick steel board, low maintainance, economy and durability.
Durable industrial double shaft shredder plastic shredders
packaing & shipping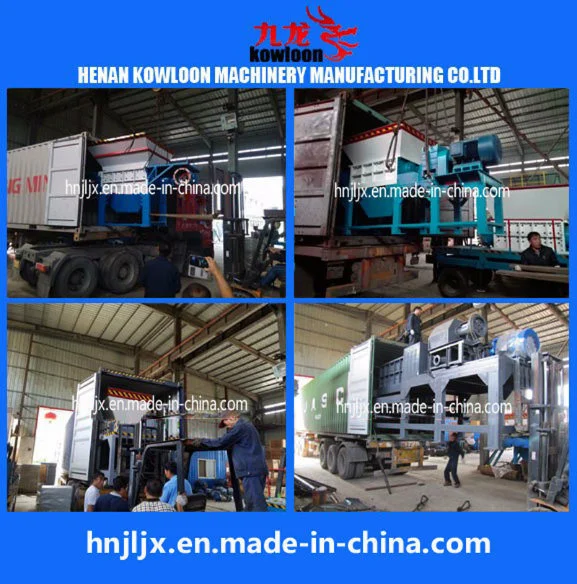 KOWLOON was established since 1986, located in Zhengzhou city, which city of industrial hub of China, 30years experience on manufacturing of:
Wood processing machinery: wood pellet production line, wood shredder, wood drum chipper, wood sawdust machine, wood powder machine, rotary dryer and air flow drying machine, wood debarking machine.
Waste tire recycling machinery: tire recycling plant, industrial two shaft shredder, tire roller mill multi-purpose rasper, rubber granulator, rubber powder machine, tire cutting machine, tire steel debeader, and fiber separate machine.
By now, KOWLOON machines were exported to more than 30 countries and share market in worldwide, owns oversea distributors and after-sale service center and now still growing continuously.

FAQ
YOU MIGHT INSTERESTED IN FOLLOWING QUESTIONS
1. Are you manufacturer or trading company?
Kowloon machines were exported by trading companies to more than 30countries, but KOWLOON is international trading department of factory only, supplying full technical support and solutions, timely and professional service, Kowloon people always effort on quality, honest, win-win business for every client.
2. How do you assistant to install the machine on worksite?
We are experienced on turn-key project, engineer and technicians will assistant client on construction, installation, commissioning.
3. How can i get spare parts for replacement in other countries?
Wearing parts like blades, it is necessary to buy with machine, other parts in stock could be delivery out by express if urgent or by sea within 5days.
4. Can I use mark machine with different LOGO and color?
Yes, please confirm details with sales.
5. Can your customers test the machines?
Before buying and after production before leaving factory, we test machine you interested or paid with specified materials, free of charge.