Stone Crusher Machine Coal Impact Crusher For Sale:
Processing capacity: 30-800t/h
Feed opening: 400×730-1260×2040mm
Feeding size: 300-700mm
Applied material: limestone, granite, coal, slag, clay.
The application of thecoal impact crusher:
coal impact crusher is dealing with the material with the side length below 500mm, not more than 250MPa anti-pressure strength, Impact crusher can be widely used in crushing the coarse, medium, and fine material(E.g. granite, limestone, concrete). During the process of operating, the rotor at high speed will be brought along by the electric motor. The materiel will be impacted by the Flat Hammer to be crushed, and then be countered to the liner for the second crushing, then be discharged through the discharge opening.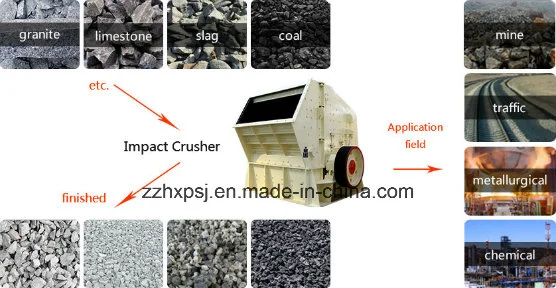 Working principle of the the coal impact crusher:
When the stone Impact Crusher works, the motor drives the rotor rotate of the Impact Crusher with high speed, on the rotor where installed the hammers. When the materials get into the area which the hammers affect, under the impact function of the hammer at a high speed, the materials are thrown to the impact device above the rotor continuously. And then the materials are rebounded from the impact liner to the area where the hammers effects for being re-crushed. The materials from large to small all to be crushed at the impact chamber repeatedly. The process won't stop till the material are crushed to the required size and then discharged from outlet of the Impact Crusher.
Stone impact crusher Features:
Excellent cubic final products
Special structure
Non-key connection
High chrome hammer
Durability in long time simplicity in operation
Easy adjustment, high reduction ration
Good performance and high reliability

Features many advantages:simple structure, Non-key Connection, high chromium Flat Hammer, special impact plate, simplified crushing process, and high-efficiency and energy conservation, Cubic Shaped desired products. The discharge opening can be adjusted.It is widely used in water and electricity, expressway, sand and stone crushing fields.
impact crusher spare parts and Structure: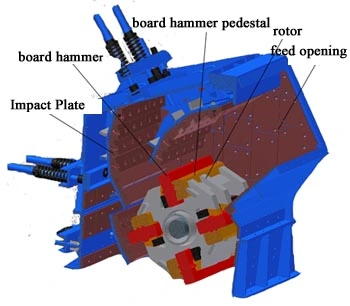 Coal Impact crusher technical parameter:
Model
Specification
(mm)
Feeding size(mm)
Max feed size(mm)
Capacity
(t/h)
Motor power(kw)
Weight(kg)
PF-0607
644*740
320*770
100
10-20
30
10216
PF-0807
850*700
400*730
300
15-30
30-45
11138
PF-1008
1000*800
400*830
300
30-50
37-55
12206
PF-1010
1010*1050
400*1080
350
50-80
55-75
13138
PF-1210
1250*1050
400*1080
350
70-120
110-132
15200
PF-1212
1250*1250
400*1300
350
100-150
132-160
17025
PF-1214
1250*1400
400*1430
400
130-180
160-200
19015
PF-1315
1320*1500
860*1520
500
160-250
180-260
24600
PF-1320
1320*2000
860*2030
500
300-350
300-375
29800
PF-1520
1520*2000
980*2980
700
400-500
400-480
38600
Stone impact crusher working site as the secondary crushing machine :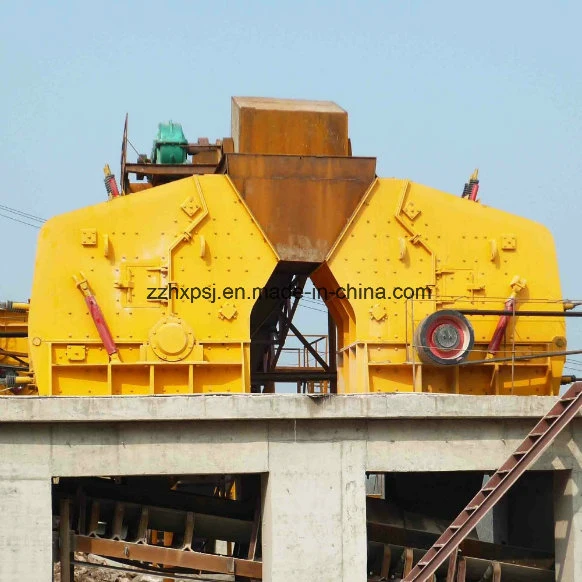 Coal impact crusher spare parts :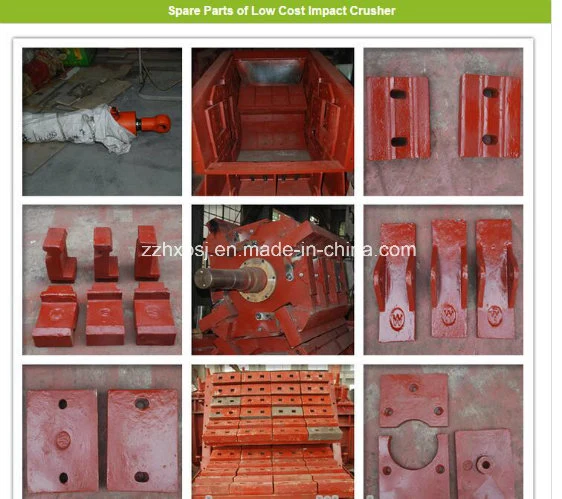 Coal Impact crusher delivery: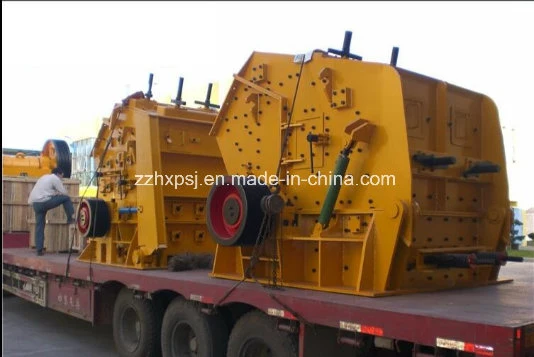 Our Company: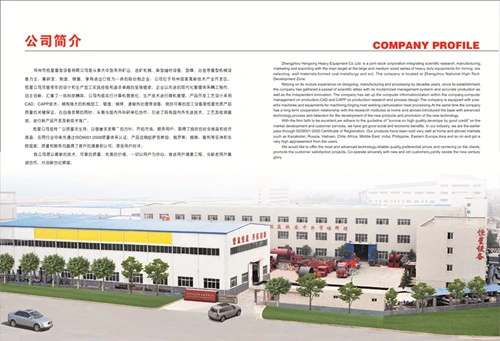 FAQ:
For providing you the suitable impact crusher price , we need to know the following information:
A: 1.What is the raw material for the production line? is it riverstone ,ore ,coal,gypsum rock ,or other stones?
2. What is the capacity per hour you required?
3. What is the maximum input size of the raw material?
4. What is the output size and application for the final product? Once we get your answers, I can provide you the best quotation immediately.
Remarks: The price will depend on different models. reply us to get good price .
Q: What about Warranty of the products?
A: we grants our customers a twelve-month-period warranty from the date of delivery for machines exported from us. During the warranty period, in case any defect of material or workmanship occurred with spare parts in normal operation, we will at our discretion replace or repair the defective parts freely. e
Please Contact Us For Impact Crusher Price if you have any requirment:
Sara
Mobile phone : 0086137 8347 1727