PNSS Series Waste Industrial Plywood Wood Pallet Shredder Machine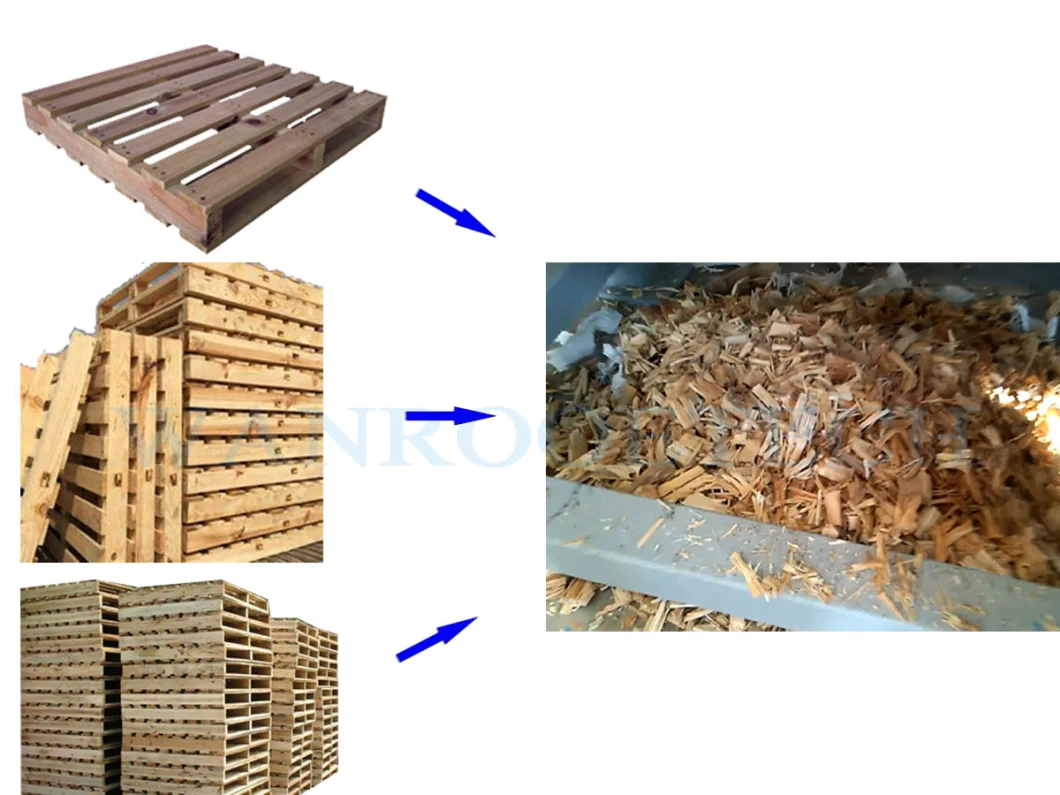 Application Areas:
The shredder machine can easily pre-crush:
1.plastic sheets;
2.electronic waste;
3.scrap (components, subassemblies; consumables);
4.metals(lead, aluminum, copper, cable, barrels, sheet scrap, sheet metal pieces left over from production processes);
5.aluminum cans;
6.wood(wooden pallets or fruit boxes);
7.plastic(plastic bottles or canisters);
8.waste tire, rubber;
9.waste household appliances;
10.paper waste (cardboard, newspaper, office paper, books, magazine, kraft paper, paper core, cardboard tube, paper packaging material);
11.textiles (rags, garments, carpet);
12.animal bones and organic waste.
Brief Instructions of Plastic Barrel Shredder:
WANOOETECH's PNSS series Shredders are used for pre-crushing of materials like the plastic barrel, plastic drum, plastic bottle, PP woven jumbo bag, etc., which are hard to crush using a common granulator. The Pre-crushed materials can increase the granulator's capacity, a lifetime of granulator's blades. Our Shredder is equipped with SIEMENS PLC intelligent controlling system, it has the features of automatic stop, reserve direction run, and alarming functions in case of the possible material block, metal escape, or overload.
The PNSS series plastic shredders and PNSC series strong crusher machine can compose a shredding system, they can meet any customer's plastic size reduction requirement from 4mm to 50mm. If necessary, using our PNHS series plastic pelletizing line, customers also can make the recycled grinded plastic chips into plastic granules, which can be used in much more field. Here, WANROOETECH can supply you with turn-key solutions plastic recycling solutions from waste dirty plastic to clean high quality recycled plastic granules.
Technical Features:
1.Our shredders can be employed as either a primary or secondary shredder and can be seen working anywhere from the waste management company to biofuel producers;
2.Dual shafted, slow-speed, high-torque waste shredder with hardened steel cutters;
3.The two cutting rotors powerfully grab the feed material, and no matter the feed material is a large piece of hard plastic or heavy tires, this machine can easily shred them into small pieces;
4.Double shaft shredder is able to process a number of different materials; shredder is designed with a powerful engine, long working length, and aggressive input, Internal feeding volume bigger than traditional and common single shaft shredder machine and allow you using a forklift truck to feed.
5.Heavy structure: the frame and structure of our shredders are made of high-thickness sheets and tubular. Blades are manufactured from high-quality steel, suitable for shredding tough materials and for extra long life;
6.Depending on the requirement, these discs (blades) are available in a wide range of quantities, qualities, and shapes with the new double-shaft shredder;
7.Any overloads caused by foreign material are sensed by the PLC controller and cause the shaft rotation to stop and reverse direction to clear the foreign matter, and then resume;
8.Cutters removal and replacement can be carried out safely and simply.
9.Our shredders Use a planetary reducer, not a traditional gearbox, and the planetary gearbox has the following advantages: High Efficiency, Greater Stability, Compact Size, Higher Torque Density, Cost-Effective Precision, High Radial Loads.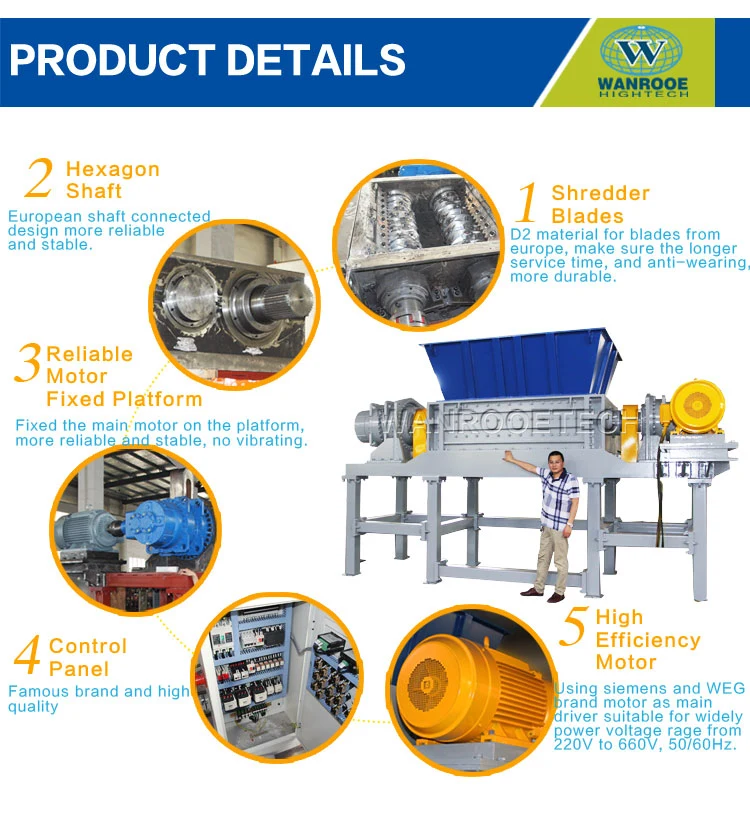 Specifications:
| | | |
| --- | --- | --- |
| Model | Shredding Motor Power(kw) | Shredding Chamber size(mm) |
| PNSS-300 | 7.5 | 510×300 |
| PNSS-400 | 7.5 | 510×400 |
| PNSS-600 | 7.5+7.5 | 510×600 |
| PNSS-800 | 18.5+18.5 | 600×800 |
| PNSS-1000 | 22+22 | 800×1000 |
| PNSS-1200 | 30+30 | 1000×1200 |
| PNSS-1400 | 55+55 | 1400×1200 |
| PNSS-1600 | 55+55 | 1600×1200 |
| PNSS-1800 | 75+75 | 1800×1400 |
| PNSS-2000 | 90+90 | 2000×1400 |