100-2500kg/h Waste Two Shaft Rubber Tyre Tire Double Shaft Shredder Machine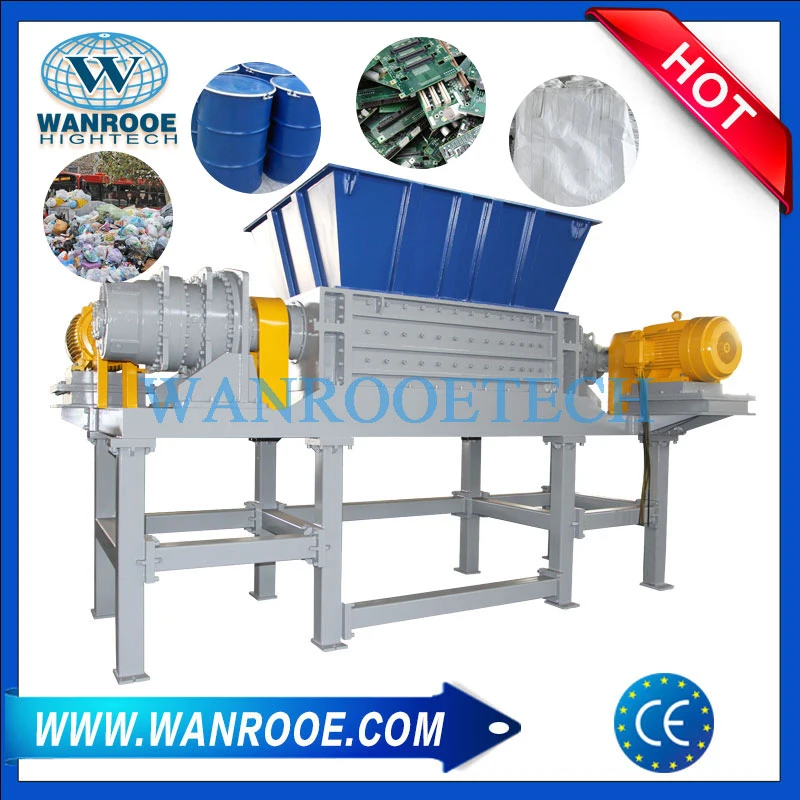 Description:
The TDF tire shredding Machine system is designed to produce up to 1.2-10 tons per hour of TDF. TDF systems produce a 25mm to 152mm (1''-6'') rubber chip, which is used as a coal additive for industrial boilers. Many of these facilities are turning to TDF because it burns hotter and cleaner than coal and is more cost effective. Rough shreds can be outputted for use or processed further to remove steel from the rubber resulting in Wire-free TDF. This plant is made of two main parts:double shaft shredder and screen.
Components: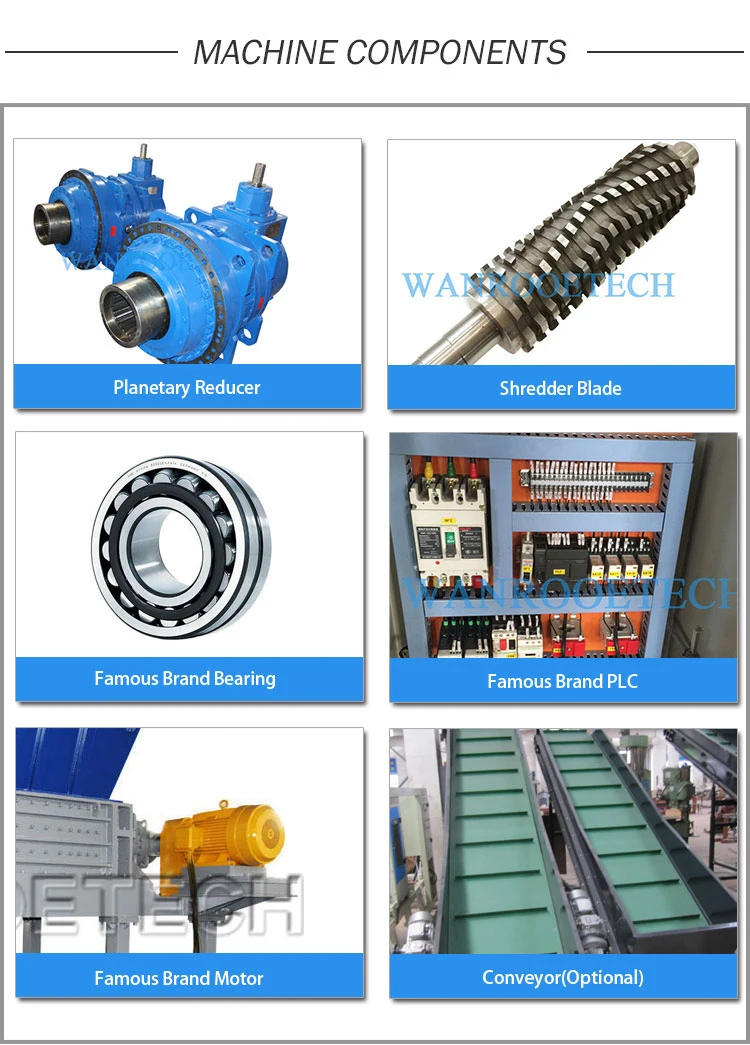 Technical Features:
1. No polluted water, no waste gas and no waste residuce during production process;
2. Compact structure, small space and easy maintennance;
3. Lower energy consumption and good cost performance of investment;
4. shredder is designed with a powerful engine, long working length and aggressive input, Internal feeding volume bigger than traditional and common single shaft shredder machine;
5. The two cutting rotors powerfully grab the feed material;
6. Any overloads caused by foreign material are sensed by the PLC controller and cause the shaft rotation to stop and reverse direction to clear the foreign matter, and then resume;
7. Screen is used to make sure the size of the output can meet each customer's requirement( From 40mm--75mm);
8. Cutters removal and replacement can be carried out safely and simply.
9. Our tire shredders Use a planetary reducer, not a traditional gearbox, and the planetary gearbox has the following advantages:High Efficiency, Greater Stability, Compact Size, Higher Torque Density, Cost Effective Precision, High Radial Loads.
Application Areas:
•Civil Engineering Applications: They can be used as landfill gas trench collection walls, as back fill for road landslide repair, as vibration reducing material for railway lines and as back fill for maintaining walls.
•Ground and Crumb Rubber: For example, it can be used in paving projects or be moulded into products. Common examples of rubber moulded products include carpet padding, rubber flooring materials, patio decks, livestock mats, movable speed bumps, sidewalks, dock bumpers, railroad crossing blocks just to mention but a few.
•Carbon Source: Instead of using coke or coal in steel mills, rubber can be used as a source of fuel. In fact, studies have recommended that steel mills should adopt burning of rubber as fuel instead of coal, since coal is mined and can be depleted. Using rubber as fuel is a great way for these mills to go green and reduce their carbon fingerprints.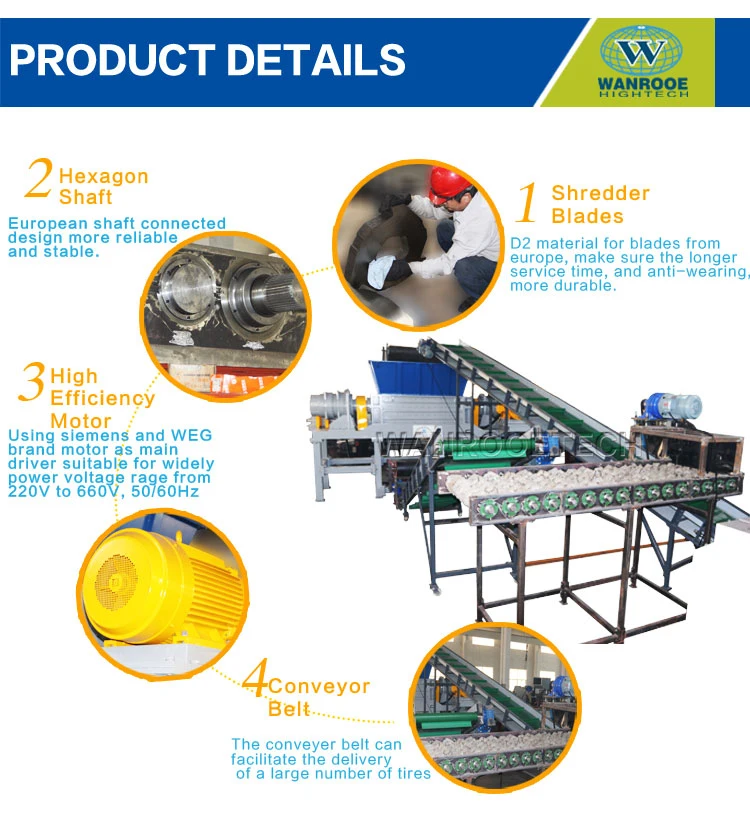 Technical Parameters
| | | |
| --- | --- | --- |
| Model | Shredding Motor Power(kw) | Shredding Chamber size(mm) |
| PNSS-300 | 7.5 | 510*300 |
| PNSS-400 | 7.5 | 510*400 |
| PNSS-600 | 7.5+7.5 | 510*600 |
| PNSS-800 | 18.5+18.5 | 600*800 |
| PNSS-1000 | 22+22 | 800*1000 |
| PNSS-1200 | 30+30 | 1000*1200 |
| PNSS-1400 | 55+55 | 1400*1200 |
| PNSS-1600 | 55+55 | 1600*1200 |
| PNSS-1800 | 75+75 | 1800*1400 |
| PNSS-2000 | 90+90 | 2000*1400 |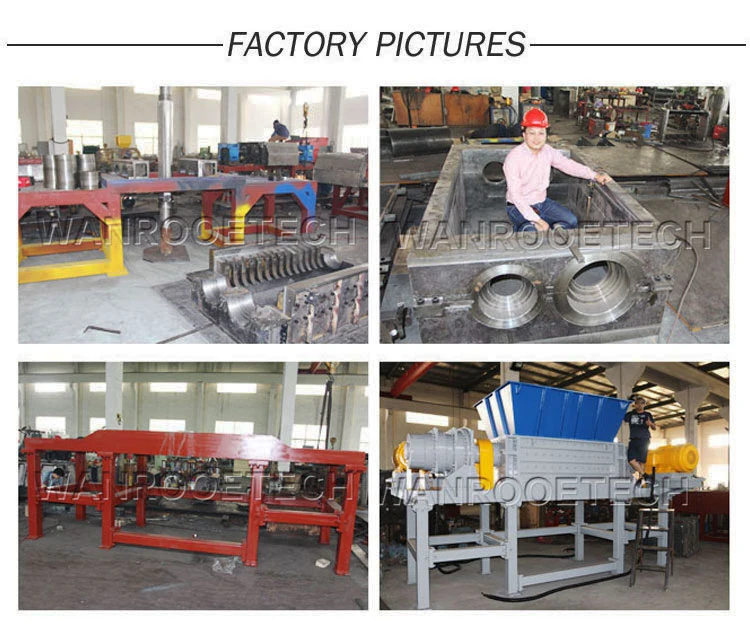 Our Service
1. One year guarantee for whole machine
2.24 hours technical support
3. Our engineers can provide service overseas. The service is free, but the charge of round air-tickets, food and hotel is to the customer's account.
4. After a year, we can instruct you how to maintain the machine, and spare parts are provided with the best price.
5. We also can provide training service which help operators handle the machine well