GHL High Speed Mixing Granulator (RMG) for mixing powder
The machine adopts horizontal cylinder structure, its structure reasonable.
Air filled seal shaft for to drive. When washing, it can be changed to water.
Fluidized Granulation, the granule is around ball shape. Its flow ability is good.
Compared to traditional process, 25% of adhesive can be reduced and the drying time is short.
The dry mixing time is 2 minutes and the granulating time is 1-4 minutes. Compared to the traditional process, 4-5 times of efficiency is raised.
Dry mixing, humid mixing and granulating are finished in the same sealed container. It is in conformity with the requirements of GMP.
The whole operation has strict safe and protective measures.
Jacket type might be adopted on request.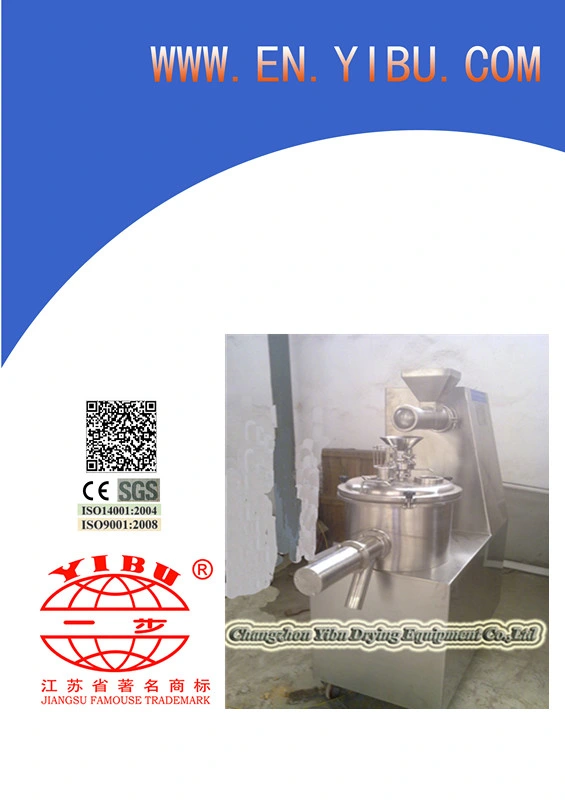 The powder raw material and adhesive in a cylinder are fully mixed at the bottom to become a humid soft material. Then it is cut by high-speed cutter and become uniform granules.
Shandong Xinhua Pharmaceutical Stock Co., Ltd.
State Zhongchengyao Engineering Technical Disquisition House
Shanghai Aotejia Biota Co., Ltd.
Dalian Tianlong Pharmaceutical Co., Ltd.
Shanxi Xinshiji Health Protection Products Co., Ltd.
Shijiazhuang Sanjiu Xunli Pharmaceutical Co., Ltd.
Fujian Guangshengtang Pharmaceutical Co., Ltd.
Beijin Qingwutian Pharmaceutical Technology Co., Ltd.
Jiangxi Qingfeng Pharmaceutical Co., Ltd.
Heilong Group Dinghengsheng Pharmaceutical Co., Ltd.
Gansu Wuwei Pharmaceutical Co., Ltd.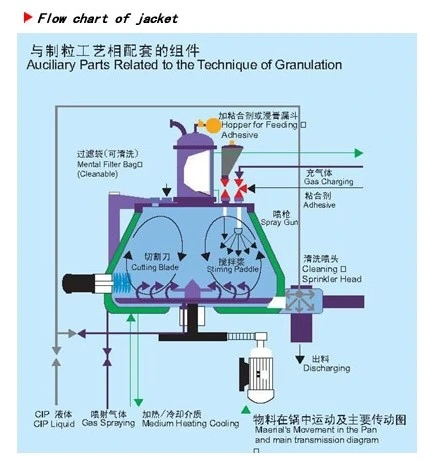 tem
specification
name
unit
10
50
150
200
250
300
400
600
capacity
L
10
50
150
200
250
300
400
600
output
kg/batch
3
15
50
80
100
130
200
280
mixing speed
r.p.m
300/600
200/400
180/270
180/270
180/270
140/220
106/155
80/120
admix power
kw
1.5/2.2
4/5.5
6.5/8
9/11
9/11
13/16
18.5/22
22/30
cuting speed
r.p.m
1500/3000
1500/ 3000
1500/ 3000
1500/3000
1500/3000
1500/3000
1500/3000
1500/3000
cuting power
kw
0.85/1.1
1.3/1.8
2.4/3
4.5/5.5
4.5/5.5
4.5/5.5
6.5/8
9/11
compressed air consumption
m 3 /min
0.6
0.6
0.9
0.9
0.9
1.1
1.5
1.8
weight
kg
250
500
800
1000
1300
1800
2200
2600