Eddy current magnetic separator
The eddy current magnetic separator separates valuable non-ferrous metals from all waste types, including household refuse
(
MSW
)
, crushed glass, shredded wood, secondary metals, PET flakes, electronic waste
(
WEEE
)
, incineration ash, and many other resources.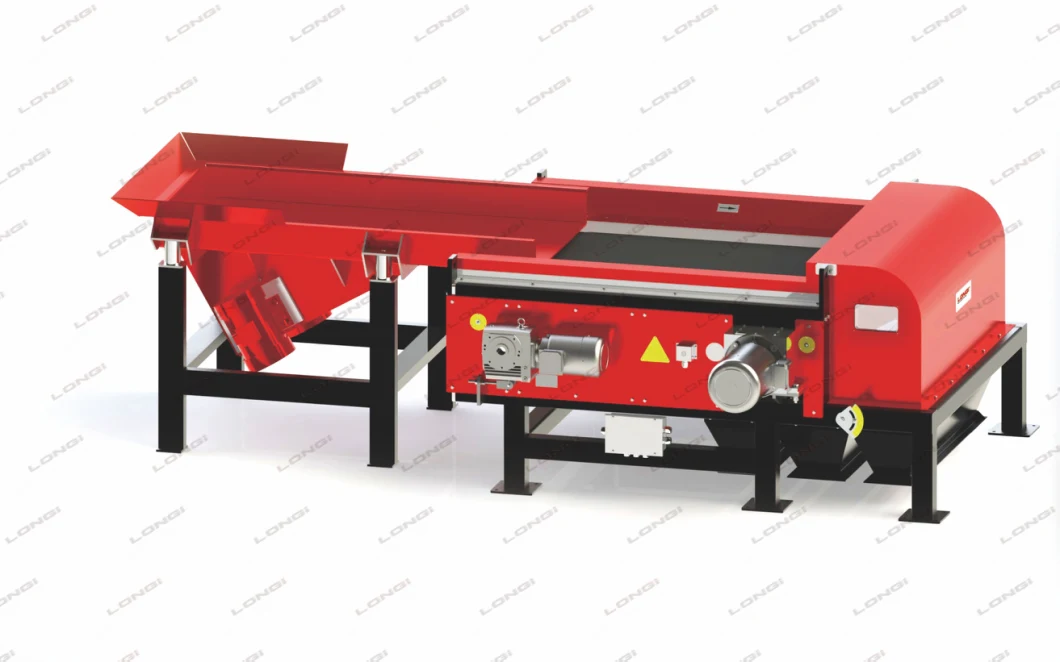 Working principle
The eddy current magnetic separator (ECS) was designed on the basic theory that an inductive current generates inside a conductor while it is in a state of a high frequency, alternating polarity, magnetic field. When the conductive material reaches to the high frequency alternating magnetic field area of the ECS, the eddy current formed. The alternating polarity causes the conductive material to be forced away from nonconductive material and it is "thrown" forward and away from the other materials.
This allows for an efficient separation by allowing the single stream to be split into two and the materials can be recycled very effectively. LONGi offers multiple styles and designs. Based on the customer's specific needs either a concentric or eccentric rotor may be recommended as well as different belt and rotor speeds and sizes.
This equipment is well suited for small particles, after the iron has been removed. The non-ferrous metal and non-metallic mineral are separated continuously and automatically. Available with LONGi's vibrating feeder, rare earth drum and cross belt
separator for separation.

Features
Compact design allows for a minimal footprint.
The multi magnetic poles due to the compact magnetic element design which improves the separation efficiency.
Easily adjustable rotor and pulley speeds allow for maximum efficiency
Easily adjustable baffle to ensure proper separation.

Technical Parameters
Model

Effective Belt Width




mm

Motor Brand

Bearing Brand

Outline Dimensions




A*B*C

Weight

(

kg

)

LECS-60

650

SEW

SKF

2250*1750*1075

1100

LECS-80

800

SEW

SKF

2360*1960*1110

1200

LECS-100

1000

SEW

SKF

2470*2200*1140

1400

LECS-120

1200

SEW

SKF

2560*2450*1180

1500

LECS-150

1500

SEW

SKF

2650*2750*1215

1750

LECS-180

1800

SEW

SKF

2740*3150*1245

1900

LECS-200

2000

SEW

SKF

2850*3350*1270

2000
Application
The eddy current magnetic separator is used in the industries as MURF, auto shredders, nonferrous yards, E-scrap and the plastic industries, the ECS can be either used to recover the higher priced metals with high
recoverability or remove them as a contaminant from the primary stream.
Base on the different material size and materials characters, concentric and eccentric magnetic rollers are operational to get the best separation results.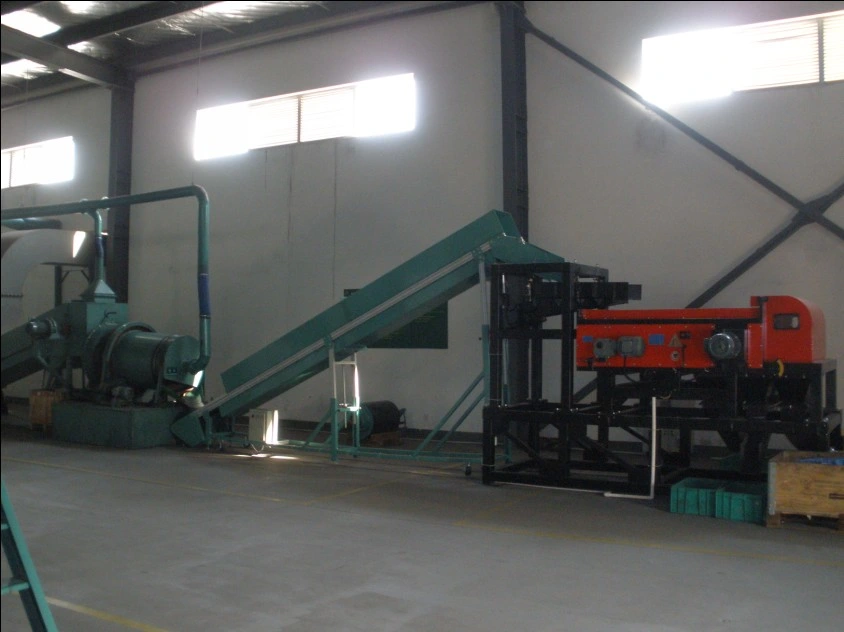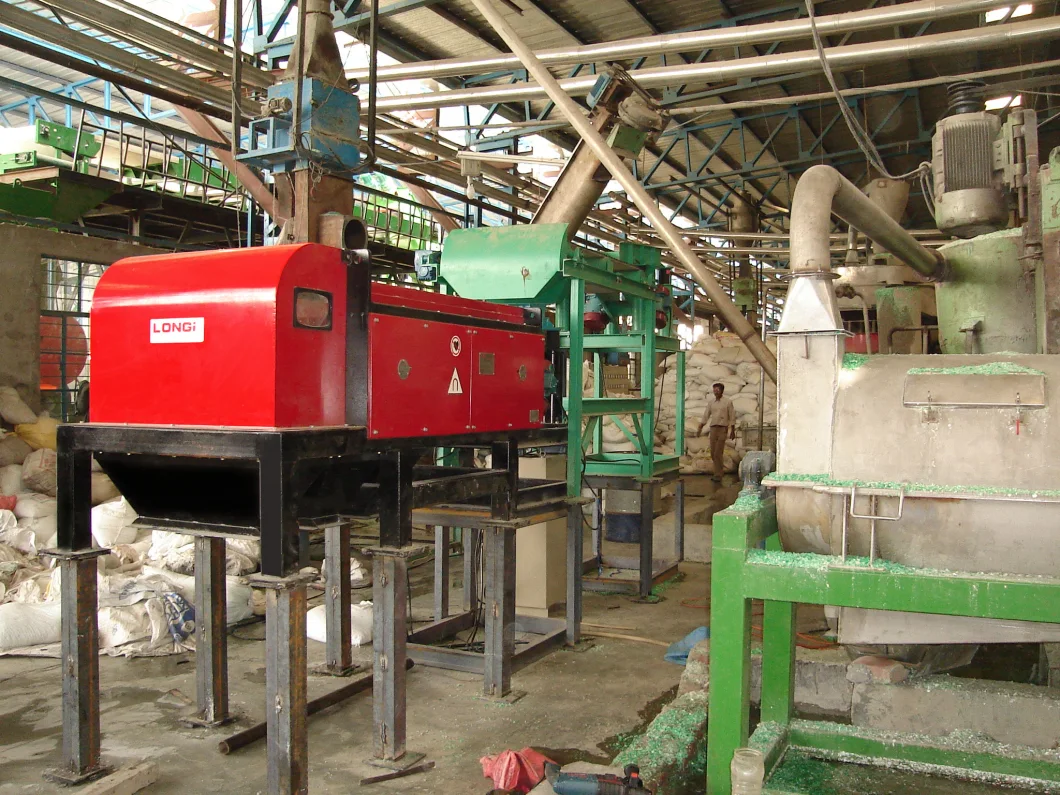 Longi
'
S Service Guarantee
One on One service
LONGi's in house laboratory is well known for providing professional and accurate sample testing for a wide variety of clients in both the mineral and recycling industries. Based on the lab test results and often a necessary site survey our experienced engineers are proud to be able to offer the best solution available every time we can. Not only do we look for the solution to best process the end users material,but,we are mindful to provide the best value and performance in the most economical way.
Valuable Site Service
LONGi is proud to be able to provide experienced mechanical, electrical and magnetic engineers able to assist with most any installation, commissioning or training issues that may arise.
Our main goal is to eliminate any situations before they arise at the work site both before and after the project. LONGi also has strategically located offices within easy access to current and future operating sites to provide spare parts and service and allow for minimal down time.
Ongoing Feedback Service
LONGi is as concerned with not only the equipment we are selling tomorrow, but, with those out in the yield already. With a customer first attitude LONGi makes it a point that past sales are just as important as the future. Because of this LONGi will periodically check in with current users to gather feedback and offer any practical feedback or necessary adjustments that will help obtain the upmost benefit to all our customers.
Certificates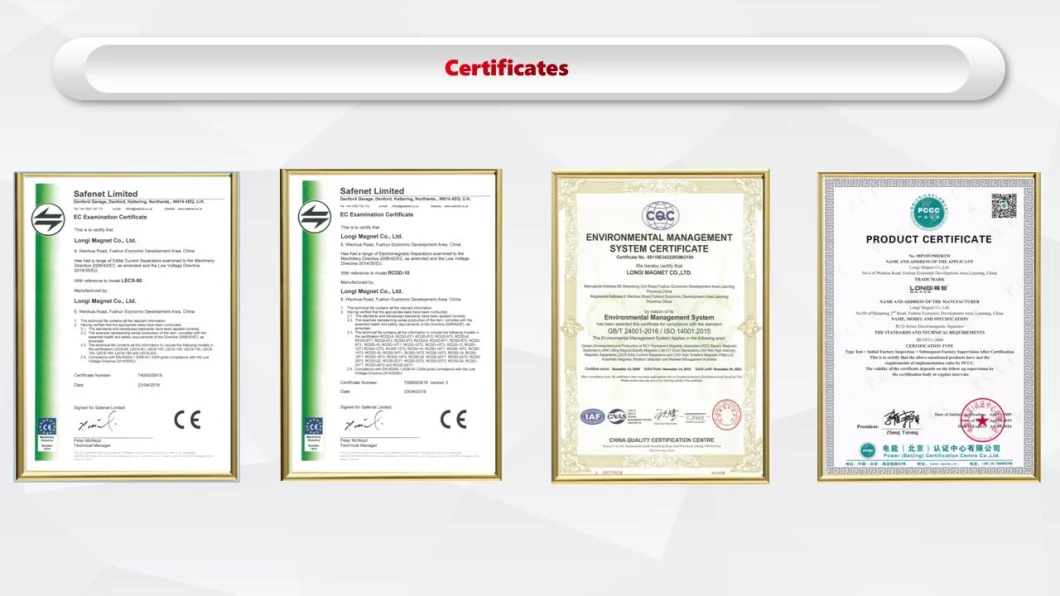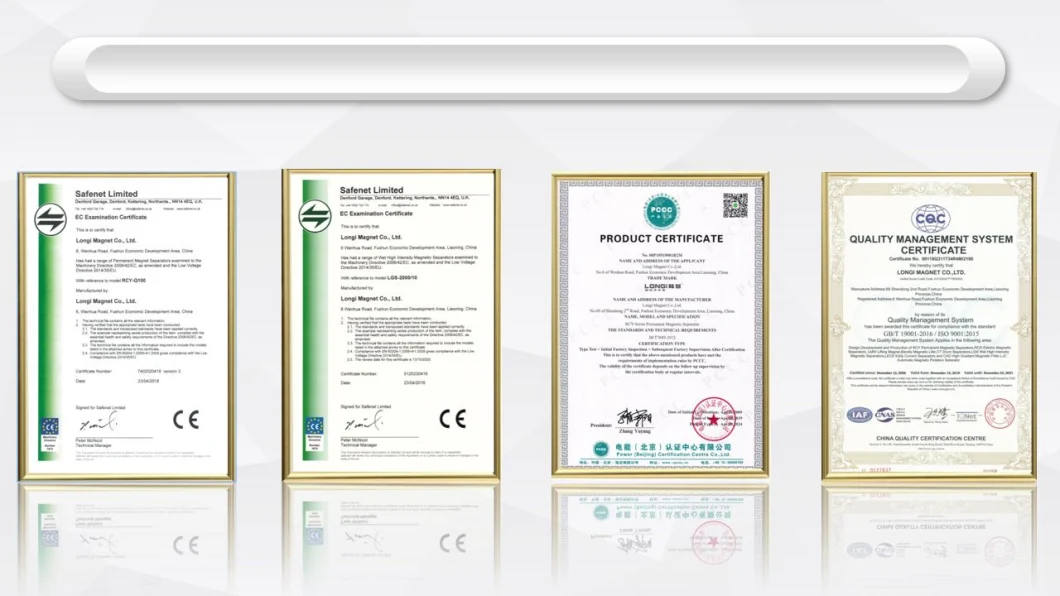 LONGi Laboratory introduction
LONGi Laboratory was established in 2006. It is a comprehensive laboratory with magnetic separation gravity separation, flotation and X-ray separation. It is an important part of the magnetic separation engineering technology research center which is approved by CMIF (China Machinery Industry Federation).The laboratory covers an area of more than 4000 square meters, with a complete single magnetic separation testing machines and with a combined in any combination of magnetic separation, gravity separation, and flotation separation testing lines.
The LONGi Laboratory can conduct the aluminum recycling experiments, confirmatory experiments and process flow sheet design experiments, and provide optional experimental reports, and provide process flow sheet and the basis for equipment model selection.
We are warmly welcome the customers to visit and watch their product samples being tested.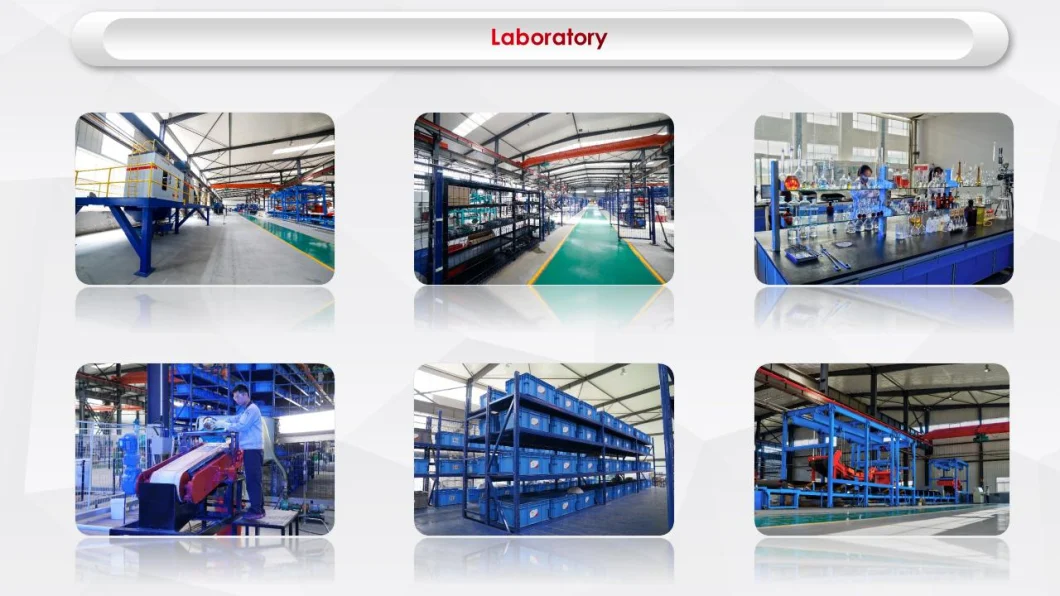 Packing, Storage, and Transportation
We can do the suitable design for the customers and according to the ordered container. The product should be stored and kept in a clean and dry place.