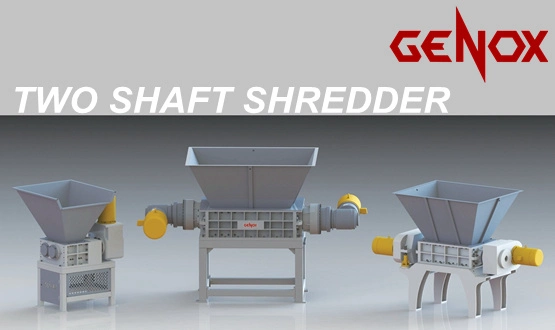 GENOX TWO SHAFT SHREDDER
M Series Two Shaft Shredders operate at low speed with high torque to minimized noise
and power consumption, whilst achieving high throughput rates.
This range of machines are particularly well suited to the size reduction of bulky or
voluminous materials which can include contamination such as metals or stones.
Manufactured from heat treated 42CrMo high grade alloy, the blades present excellent
wear and shock resistant properties.



Specifications
| | | |
| --- | --- | --- |
| model | M800T | M800 |
| Dimension L XW X H(mm) | 2930X1850X2200 | 2820X1060X1850 |
| Chamber size L X W(mm) | 800 X 750 | 800 X 480 |
| Discharge heath (mm) | 850 | 650 |
| Rotation diameter(mm) | Φ430 | Φ284 |
| Rotation speed(rpm) | 14.5 | 14 |
| Number of blades(pcs) | 20 | 40 |
| Blades thickness(mm) | 40 | 20 |
| Drive power(Kw) | 15+15 | 7.5+7.5 |
| Hopper volume(L) | 950 | 750 |
| Weight(Kg) | Approx 4300 | Approx 2200 |
With maintenance and operation taken into account during the design stage, the removal
and refitting of the blades is straight forward task. The machines are equipped with
mechanical and electrical overload protection systems, and can therefore be applied in
the processing of challenging materials such as WEEE (televisions, computers etc.), white
goods (washing machines & refrigerators), tires, drums, pallets, pipes to name but a few.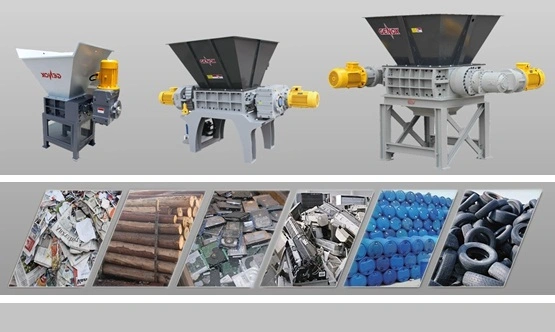 Company profile
Genox is a combined word of "Generating Oxygen" with a meaning of creating a better environment through new and innovative technology.Both the employees and management of Genox abide by this principle and constantly pursue the most effective, reliable and cost-effective solutions for the recycling of waste materials.
Through extensive testing, seeking feedback from our valued customers and distributors, and working closely with our European engineering partners. Genox has developed an extensive range of technically advanced machinery for the processing of plastics, tires, and E-waste.
Plastics shredding, granulation, and washing systems, including complete recycling plants, are the important part of the Genox product range. Single shaft shredders, two shaft shredders, granulators, washing tanks, dewatering centrifuges and other necessary equipment which can be customized on request allows us to offer bespoke proposals tailored to suit the requirements of each and every customer.
Certification
We awarded 50 utility model patents and 3 invention patents.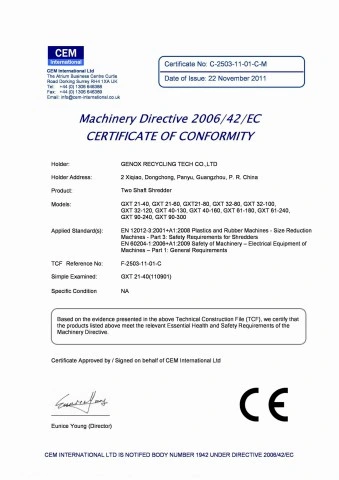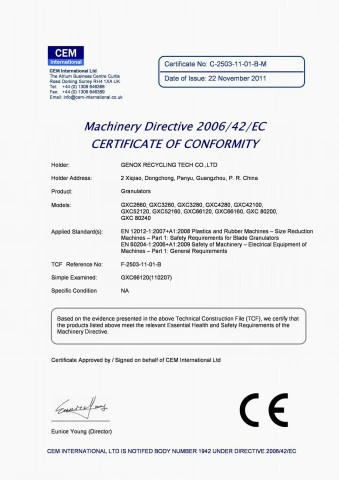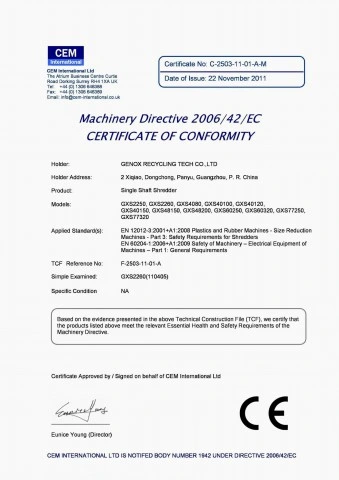 FAQ
1.Question:Will we provide pre-sale services ?
Answer:Genox consists of experienced specialists, we will offer a suitable solution according
client's requirement in time.
2.Question:Is our after-sales service excellent ?
Answer:Genox's skilled technicians are available to assist with onsite installation,
commissioning & training on request. This will enable customers to optimize the performance of
their new plant. Customers will be briefed on all aspects relating to operation and maintenance
by a Genox technician. Dimensional drawings together with service requirements will be provided
prior to delivery of the equipment. This will allow the customer to prepare the site and allow
them to commence production in a timely fashion.
Genox holds a adequately inventory of spare parts and their efficient service personnel will
ensure that any required part will be dispatched without delay. Delivery of the spare parts
may be by air, sea or courier depending on the urgency of the situation. Customers are
encouraged to hold their own critical spare parts such as granulator blades and screens to
ensure optimal machine condition and performance.
3.Question:Will we provide technical support ?
Answer:Genox provides enough hardware resource especially for large-scale production lines,
clients can carry out installation, commissioning and acceptance before delivery.
Main products
1. Plastic Shredder
2. Wood Shredder
3. Tire Shredder
4. Dead Animal Shredder
5. Household Refuse Shredder
6. Kitchen Garbage Shredder
7. Tyre Shredder
8. Crusher Shredder
9. Scrap Shredder
10. Auto Tire Shredder
11. Cold Dead Cow Shredder
12. Medical Waste Shredder
13. Plastic Recycling Shredder
14. PCB Shredder
15. Steel Scrap Shredder
16. Foam Shredder
17. Rubber Shredder
18. Drum Shredder
19. Lumps Shredder
20. Film Shredder
21. Jumbo Shredder
22. Woven Bags Shredder
23. Four Shaft Shredder
24. Double Shaft Shredder
21. Plastic Pipes Shredder
22. Plastic Film Shredder
23. Waste Injection Products Shredder
24. Plastic Bottles Shredder
25. Plastic Bags Shredder
26. Copper Tube Shredder
27.
Tire Recycling System
28. Scrap Metal Recycling System
29. Cable/Electrical Wire Recyling System
30. WEEE Recycling System
31. Plastic Wshing & Dewatering Machine
32. Plastic Washing System
33.
Plastic
Granulator
34.
Wood
Granulator
Contact Detail:


Telephone:86-20-66851346
Fax: 86-20-66851347

Address:Xiqiao, Dongchong Panyu, Guangzhou, Guangdong, China 511453


Welcome to contact us at any time We will reply you within 24 hours